Photography by: Roy Rochlin
Code Guru: Surya Mattu
Music by: Art Blakey & The Jazz Messengers - Moanin'
My creature is "alive". Touch is a kinetic sculpture with smooth organic motion activated by touch and touches the users back.
I've been sculpting from a very young age, and believe that touching a sculpture is one of the most important senses activated when experiencing art. Most museums put up barriers between us and the art. I believe touch is the most important part of the experience. Touch Creature is my personal attempt to break the rules of the traditional museum, where you have to be quiet, and just observe the art. I want the viewers to leave my exhibit feeling like they were engaged deeply with the art.
Touch Creature was awarded 2 blue ribbons in Maker Faire NY 2015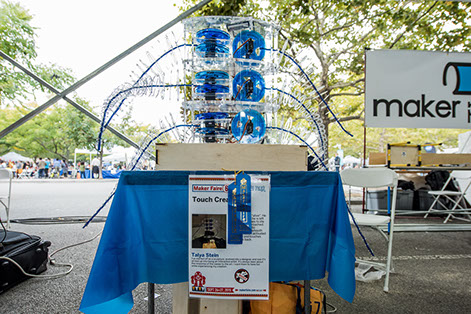 Touch creature was created through a long process of exploration and experimentation.
A kinetic sculpture with smooth organic movement which lives on on the sense of touch as an input and an output.
The process started with a sketch. Basic simple shapes. Spheres and tentacles.
The key components are the materials, movement, mechanics and code.
Below you may see steps along the way.
For the build:
Plexiglass is used as the core material. It's light weight and easy to use for rapid prototyping. All the parts were laser cut. For the centre part a silicone 1/4" tube is used to centre the pieces. Four coated wires (Beadalon) are pulling the tentacle in directions of up, down, left and right.
I learnt how to build the tentacle on an online class of Stan Winston School of Character Arts.
Conductive wire is weaved through out the tentacle behaving as switches to read where and when a tentacle was touched.
For the brains and controls:
Arduino is used as the brains (micro controller).
12 MG995 motors are used to create all the movement.
MPR121 is the conductive chip to read when and where a tentacle is touched.
I created this creature during my studies at ITP as my thesis project. It wouldn't have been possible with out the teachers I learnt from, the friends I studied with, and the out source community.
This tutorial is my little contribution to give back to the community.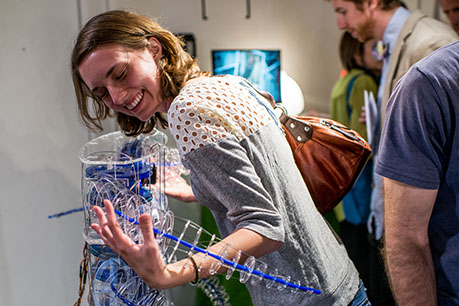 © Talya Stein - all rights reserved